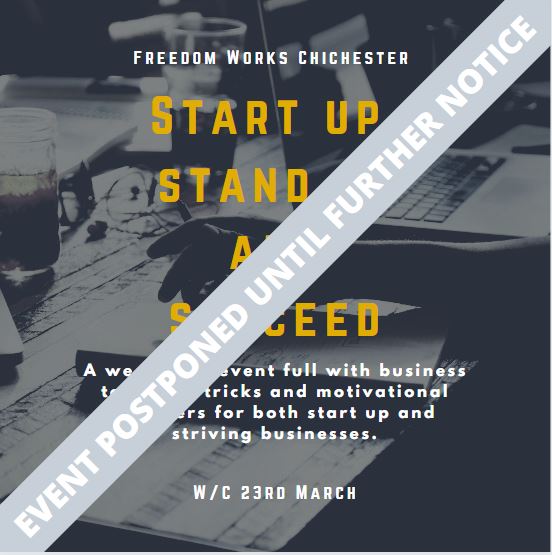 Join us here at Freedom Works in Chichester for a free of charge week long event to support both start up and striving businesses.
From Monday, March 23rd through to Friday, March 27th, Freedom Works is opening it's doors to all start up and striving business owners.
The week long event will include hot desking for all attendees for the duration of the event, motivational talks, information on the latest business tools, tips and tricks and an opportunity to network within a collaborative co-working environment.
Tea, coffee and light refreshments will be provided for the event, simply bring along a notepad, pen and positive can-do attitude.
Please see our timetable of speakers below:
Monday, March 23rd- 10.30am-11am: Debbie Ford- Social media queen, owner of Chichester Social and mastermind for support for solo entrepreneurs and business owners, Debbie, will be providing all event attendees with a motivational talk on business growth and how to keep striving forward.
Monday, March 23rd- 3.30pm-4pm- Aaron Britton- Natwest expert and Business Growth Enabler based in Fareham,Portsmouth & Chichester, Aaron will be providing any start ups or well established businesses great financial advice whether you bank with NatWest or not.
Wednesday, March 25th- 10.30am-11am- Liz Ranger- Networking superstar and Utility Warehouse expert, Liz, will be giving her useful advice on helping people save money on their bills and support others into a risk free business opportunity that is changing many peoples future. Liz will also be offering an exclusive offer out to event attendees to come along to The Mumpreneurs Networking Club free of charge in March!
Wednesday, March 25th- 3pm-3.45pm- Adrian Brown-Last but most certainly not least... Bizmosis boss, Adrian, will e introducing event attendees to a new group launching in Chichester with his talk. The group will be a community where you can be amongst like-minded business owners, learning new skills, and developing the knowledge you need to grow and scale your business.
Friday, March 27th-10.30pm- Clive Bonny MD of Strategic Management Partners is a qualified IP auditor, IPO listed mediator and Responsible Business Standards advisor- Clive will be providing attendees with a 20 minute presentation on protecting your band: IP.
To book onto the event click here.