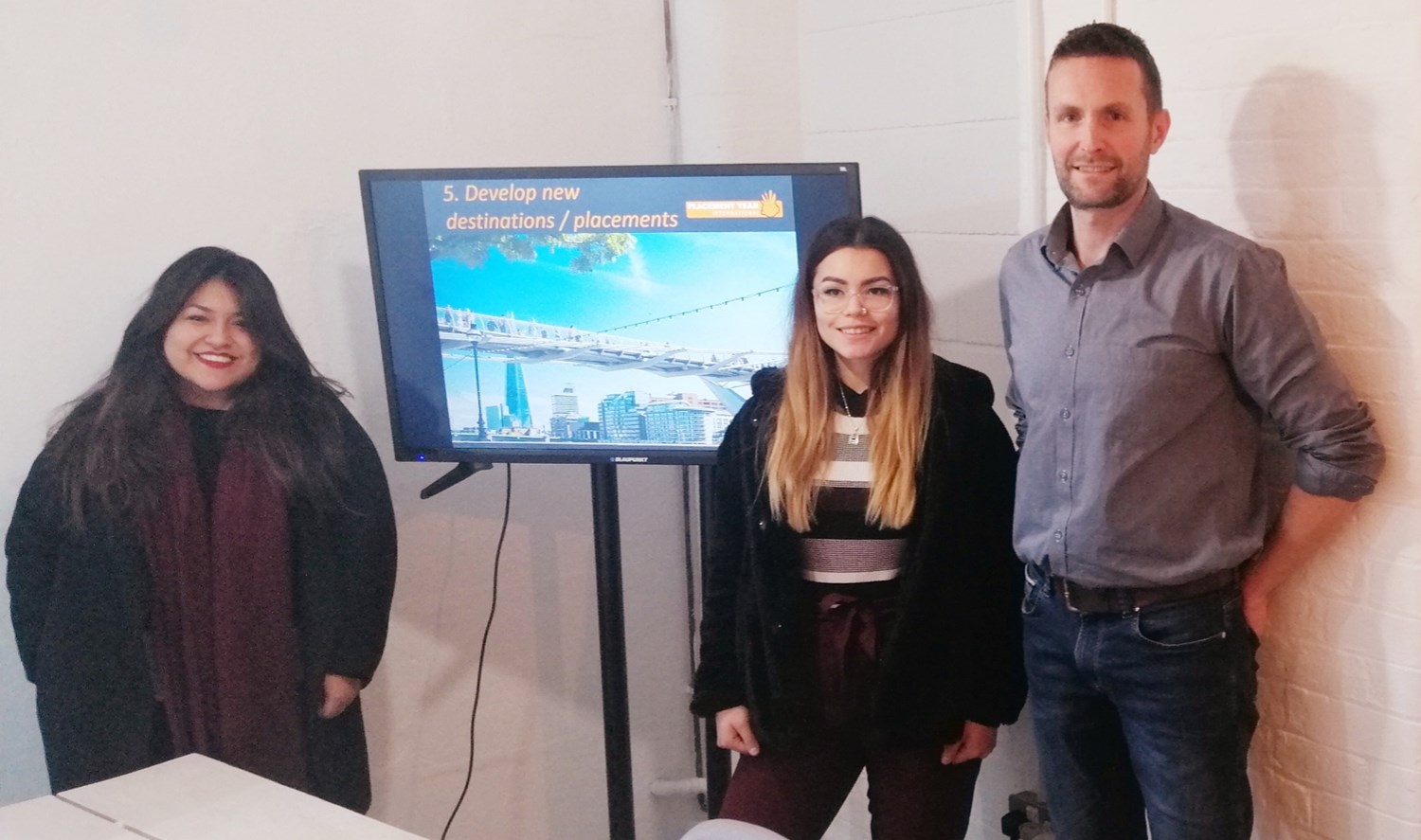 Introducing Richard Clowes, Director of Placement Year International. Freedom Works welcomed Richard and the team at Placement Year International into the Hove space just over four months ago, they use our flexible hourly hot desk packages so you will usually see them in different parts of the open plan working areas in both our Units!
About The Team:
Currently working in Hove are Richard and Sheyla and Tammie who are Placement Consultants, both originating from Peru. However, the rest of the team are based all over the world. Their Head of Administration, KC, is based in Madurai, India, their social media and newsletter is done by Charisse in Cape Town, South Africa and Bindhu does their SEO from London. They love having such an internation team!
About Placement Year International:
Placement Year International was created in 2015 and arranges overseas work placements in Australia, China, Thailand, the Maldives, Vietnam, Nepal and the UK, in industries as diverse as hospitality and tourism, business, finance, HR, medicine and healthcare, and teaching. Their customers are University students and recent graduates from the UK and Europe. Richard explained that they have 3 key unique selling points in that they have flexible start dates and durations, they have a diversity of countries and a range of placements that they offer and that most of the placements they arrange are paid and include accomodation and food.
Richard highlighted that their proudest achievement to date is overcoming significant hurdles and to continue to grow year on year as well as every time they get good feedback from an intern on the other side of the world! In the next 2-5 years time their ambition is to be the leading provider in the UK for overseas work placements for students and recent graduates. In the short term they want to continue to expand the number of countries they offer placements in, as well as diversifying the kind of placements they offer. The team are inspired by seeing the positive impact their placements can have on an individual. They truly believe that having the opportunity to gain work experience overseas in your chosen industry at the start of your career allows a person to grow both professionally and personally in a way that is hard to achieve any other way.
About Working At Freedom Works:
As an international team a lot of their work is done remotely, Placement Year International chose to work in a coworking community and at Freedom Works Hove as it allows the Brighton staff the flexibility to come together as a team when needed, without the commitment of a permanent office. Being in the same space as so many other start-ups and small businesses is really inspiring and creates a good energy that Richard believes the team really enjoys and benefits from. And like many of our other members they like free-beer Friday! The nature of the business means they can be very flexible in how they work and Freedom Works flexible membership packages suits the team much better.
And Finally, About Richard:
What or who motivates you?
On a personal level, I survived the boxing day tsunami in Asia in 2004 and every day since then has been a bonus! It made me realise how lucky I am to be here doing what I do. I am aware of this on a daily basis and it drives me to take risks and be successful in whatever I do.
How do you spend your spare time?
Er…what's spare time?! I'm always keen to get outside when I'm not at my desk. I'm a keen cyclist and have competed in loads of triathlons. I also love photography and would like to have more time for that. Of course travel, mainly to Asia (I also run an organisation called VoluntEars which takes me to Sri Lanka and Nepal regularly!).
What would you put into Room 101?
Seagulls, frackers and pot holes.
What do you especially like about living/working in Hove?
Having the beach at the end of the road, great countryside nearby for cycling and walking, plenty of restaurants and bars (but never enough time to use them!), and my co-working space!
What is your favourite hangout?
The beach in summer. BBQ, kayak, friends…hard to beat.
Where do you network?
Mainly at University events and careers fairs.
Where is your favourite place in Hove?
Are you stalking me Freedom Works? The beach (see above), then the Connaught pub in a close second!
Thank you to Richard for answering all our questions! We are excited to see Placement Year International grow!
If you are interested in becoming a member at Freedom Works Hove, get in touch for a tour or a free trial day!