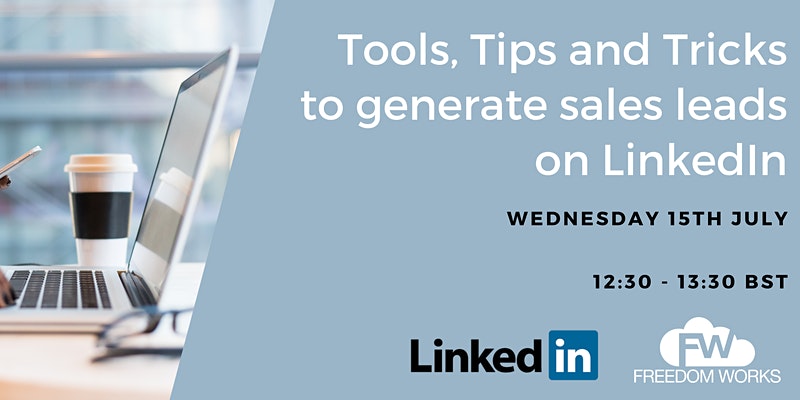 Everyone knows what LinkedIn is but only around 5% of people know how to fully use it and how to generate leads from it. Right now, more than ever it's time to get your LinkedIn A-game into shape as we all try to adapt to the "new normal" we find ourselves in. With very limited face-to-face meetings and tradeshows over the next few months, LinkedIn can help you reach the buyers you need to keep your business ticking over and thriving in these difficult times.
This workshop is being delivered by one of Freedom Works very own members, Adam Tilbury-Eld. Adam has been successfully using LinkedIn since 2007 and has generated over 5000 leads via LinkedIn and closed over £15m of business from this activity. Adam is going to give a 1-hour webinar highlighting all the key things you need to be doing to get more out of LinkedIn right now.
Who is this workshop for?
The workshop will add value to
ANYONE currently using (or thinking about using) LinkedIn
including business owners, sales managers / members of the sales team, marketing managers, recruiters or indeed anyone interested in finding out how best to use their profile to identify and approach new clients and create new business opportunities.
What will be covered in the workshop?
-Key LinkedIn concepts & why now IS the time to go large
-Optimising your LinkedIn personal and company profile that will market, attract and sell for you
-Expanding your network
-Engaging and Raising Brand Awareness
-Using LinkedIn for market mapping and research
-Lead generation, identifying prospects and running outbound campaigns
What will be the format of the
Workshop ?
This workshop will be a live demo + running PPT, the first 40 minutes will be covering all the above topics and the final 20 minutes will be answering questions put forward by the audience.
The session will be attended by other
Freedom Works
members and business owners in the south east. By all means invite your friends or colleagues along that you feel might benefit from the workshop, just be sure to grab a ticket so we can keep control of the numbers!
How will I join the webinar?
After you register your FREE ticket, a zoom link and joining instructions will be sent out 1-2 days before the event to the email address you used when registering for a ticket on eventbrite.
As there are limited spaces available for this event please let us know if you are unable to attend.
Contact
Freedom Works
at
[email protected]
If you need any more information or would like to to ask any questions about the workshop or submit questions for Q+A in advance please contact
Freedom Works
on
[email protected]
We look forward to seeing you there!