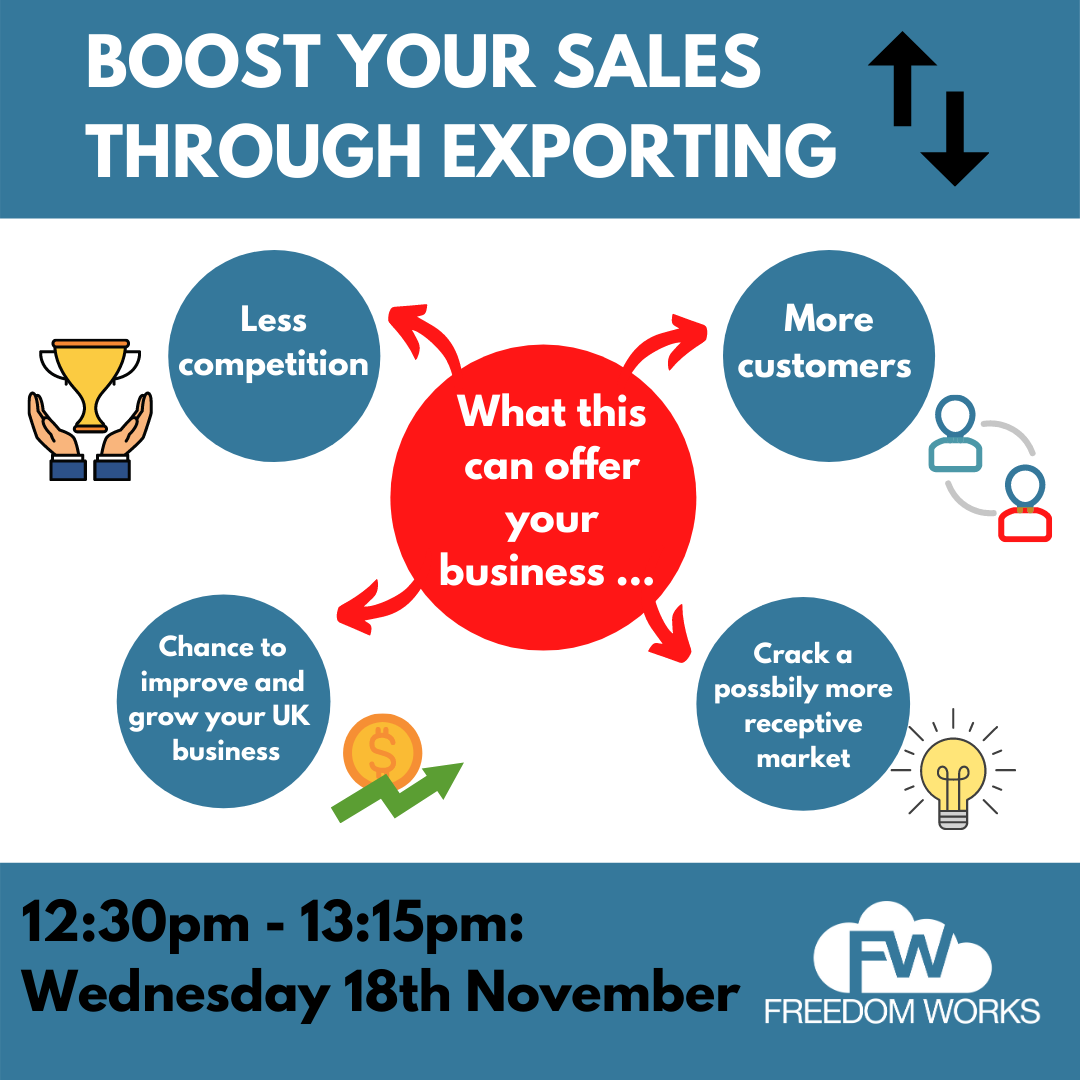 This could be the time to explore growing your business by building an export strategy which could catapult your business success into the future.......
Liz Truss, International Trade Secretary said 'Exporting will play a vital role in the UK's economic recovery from the Coronavirus and my department is committed to delivering greater export opportunities for UK businesses through free trade agreements'.
During this webinar,
Freedom Works
member,
Estelle Dingley
, International Trade Adviser and Business Growth Mentor, will guide you through the exporting process from exploring the opportunities for export, why export may be good for your business, how to get started and some practical examples of businesses that she has helped toward exporting success.
As Estelle comments, 'Over the past 20 years I have come across many factors that hold businesses back from exporting or growing their export trade. But I believe that every company can trade successfully across borders.
Client A
used to think their services could not be exported. With guidance and support, the US now represents 25% of their income.
Client B
was a new exporter when we met. 18 months later, their total turnover has grown 7 fold, exports now representing 50% of their turnover.
Client C
spread risks by putting together a strong digital strategy, selling across international e-commerce platforms.'
During her 40 minute presentation, Estelle will discuss:
What can you export - including both services and products
Why export and how to mitigate your business risk by exploring new markets outside the UK
How to get started
Real life business examples of products that services that have been successfully exported and what can be achieved through export
At the end of the presentation, there will be 15 minutes for Q&A's and Estelle has offered a 1-2-1 follow up with any business who would like to explore the opportunity further. A zoom link will be sent to your email 1 day before the event

BOOK YOUR FREE SPACE NOW!