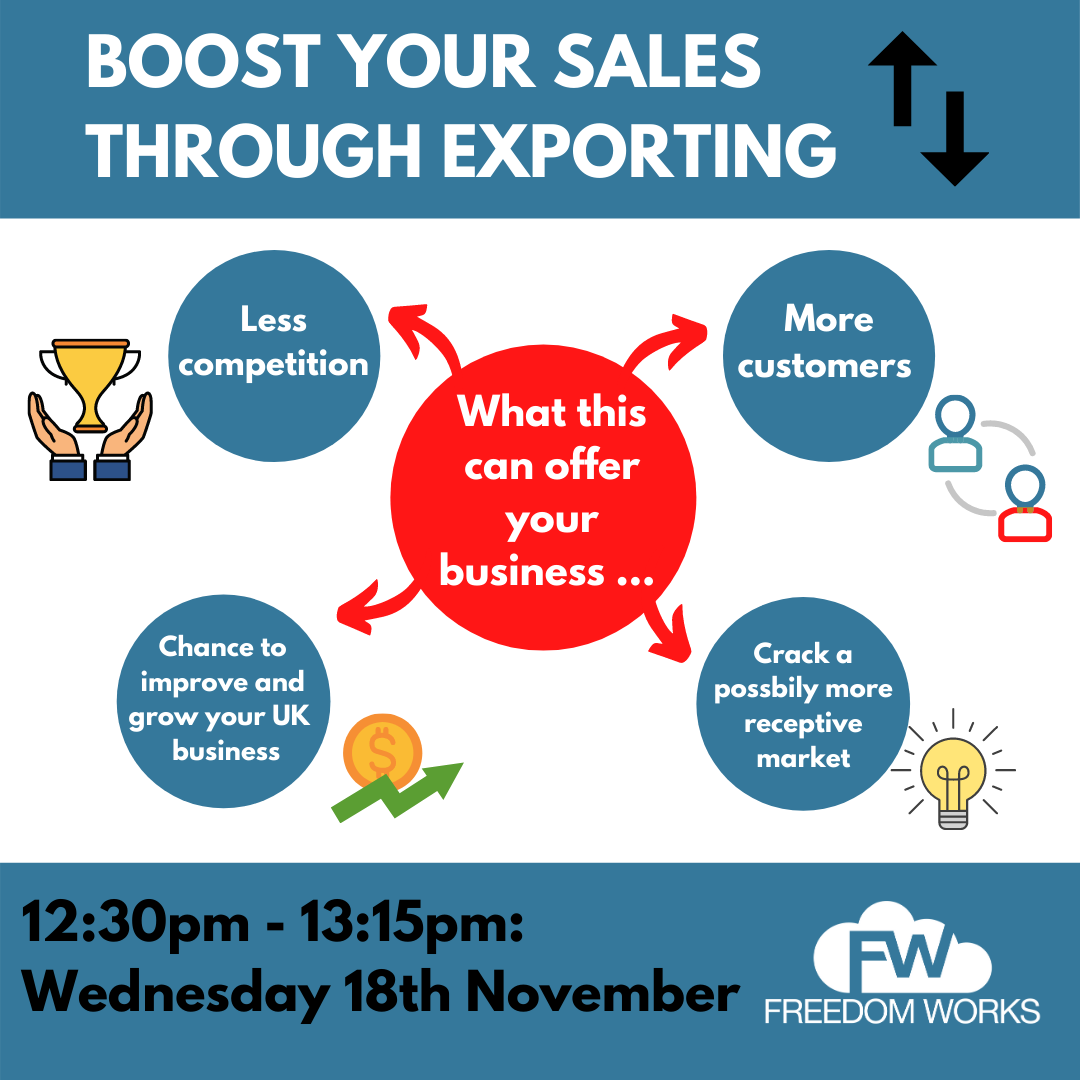 Are you looking for opportunities to boost productivity and make up for time (and revenue) lost during the COVID crisis?
This could be the time to explore growing your business by building an export strategy which could catapult your business success into the future.......
Liz Truss, International Trade Secretary said 'Exporting will play a vital role in the UK's economic recovery from the Coronavirus and my department is committed to delivering greater export opportunities for UK businesses through free trade agreements'.
During this webinar, Freedom Works member, Estelle Dingley, International Trade Adviser and Business Growth Mentor, will inspire you to to explore the opportunities for export and guide you through the exporting process. She will explain why export may be good for your business, how to get started and some practical examples of businesses that she has helped toward exporting success including a our guest speaker, Ben Collier, Product Director at Ocasta. We will also be joined by Jeremy Taylor of The Company Connector who is well versed in supporting and promoting businesses' International Trade ambitions. With a network in over 30 countries & markets, he can bring you practical advice and guidance on accessing new markets & what to do once you get there.
Ocasta is a mobile app development company, www.ocasta.com, who had ambitious plans to look at exporting, targeting the USA. Fast-forward a few months, the plan evolved and Australia came in the picture. Ben is now working with Estelle under an EU funded programme, attending Masterclasses and Workshops and has secured his first deal! He will explain his journey……...
As Estelle comments, 'Over the past 20 years I have come across many factors that hold businesses back from exporting or growing their export trade. But I believe that every company can trade successfully across borders.
At the end of the presentation, there will be 15 minutes for Q&A's and Estelle has offered a 1-2-1 follow up with any business who would like to explore this opportunity further.

Presenters: Estelle Dingley,
Department for International Trade
: [email protected] Ben Collier,
Ocasta
,

[email protected]

Jeremy Taylor,
The Company Connector
,

[email protected]

.com