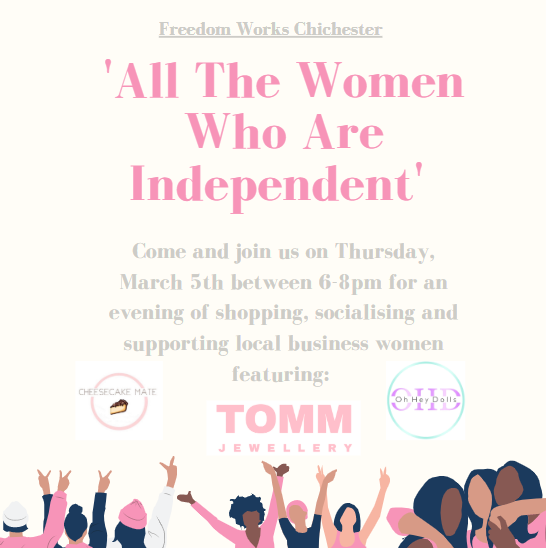 Come and join us here at Freedom Works in Chichester for an evening of shopping, socialising and supporting local business women.
When?
Thursday, March 5th between 6-8pm.
What is this in celebration of?
International Women's Day 2020 (Sunday, March 8th)
Which businesses will be there?
TOMM Jewellery- Lucy is returning to the space with her extensive jewellery range giving us that chance to sparkle through life. Check out her Instagram @tommjewellery.
Cheesecake Mate- The lovely mother of two, Shelby, has recently shared her baking talents with the world by launching her business Cheesecake Mate and she will be selling mini International Women's Dauy themed cakes on the evening! Check out her Instagram @cheesecakemate_
Oh Hey Dolls- Hayley welcomed her beautiful clothing range into the world last year with the launch of Oh Hey Dolls and she will be show casing just some of her products on the night. Check out her Instagram @ohheydolls.