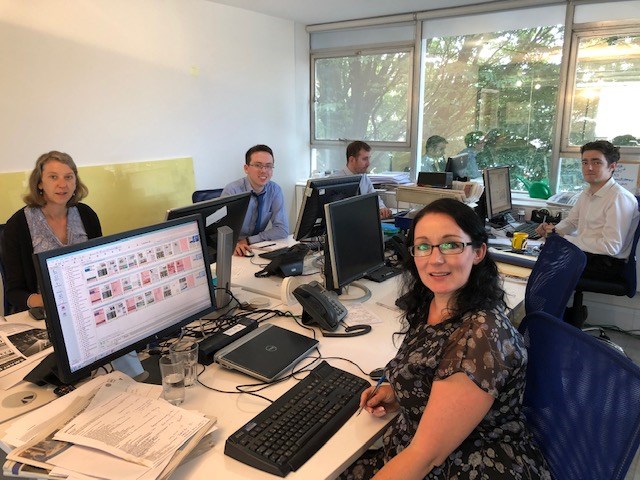 Chichester is very happy to be the new working home for some of the JPI media employees. This month the members that we are going to feature are the Chichester Observer Series newsdesk, which cover three editions, Chichester, Bognor Regis, and Midhurst.
This team consists of Nicola Caines the deputy editor for the Chichestrr Observer sereis, started as a trainee reporter, aged 19, at the Basildon Echo newspaper in Essex. After a varied carrer Nicola now works three long days per week beacuse she has two young children. Nicola loves being a journalist and helping to publish stories which make a real difference to people and highlight important issues. I do not write much myself now but I enjoy seeing new trainees develop their skills and enjoy the rewards of producing newspapers and websites. I help the new trainees work towards their NQJ exams which enable them to progress from trainee reporters to senior reporters.
The other team members are Nikki Jeffery the content editor, Joshua Powling the political editor covering all the JPI media Sussex titles from Chichester to Rye. Sam Morton and Joe Stack, are the reporters. A team of very mixed talent and experience, the senior members have lots of experience and have seen many changes to 'the local paper' over the years and the reporters who are learning and developing their craft who are seeking out the local stories to write about.and in today's world these stories get published in print once a week, but online as they happen.
What they like best as journalists is the variety of their work, no two days are the same. They get the chance to write about topics and issues that have an appreciable effect on the local area and community. They chat to local people, businesses, Councillors, and emergency services and monitor breaking national news. They agree that it is quite pleasing to over hear people chatting about your stories in the pub.
Journalistic inspirations are Dan Walker and David Walsh.
Working in a close knit team, the community atmosphere is what they like best about Freedom Works, they have enjoyed two community lunches, free beer Fridays and a bake sale!